Blue Sky Atlanta Music & Entertainment will help you choose the best wedding or event vendors.
At Blue Sky Atlanta, we offer event planning services that are top notch. We help you create and manage your event from planning to execution with your specified budget and time in consideration. Our services for event management includes:
AV Setup Management :
You ask for it and we make it happen for you. Audio Visual is an area of event planning that often gets overlooked but to make an event perfect, you must get screens and sound system right, otherwise it may affect your event adversely.
Being a professional entertainment co., Blue Sky Atlanta, which has been serving Atlanta and its surroundings for many years, provides AV Setup management services to its clients during special events so that you can relax and enjoy your event knowing that every detail is being taken care of by us with perfection. We add interesting visual effects to the program as well as ensure loud and clear audio sounds.
Whether it's a wedding reception, birthday party, corporate event, or any occasion, we have a special team to arrange all the AV setup on stage in order to ensure a smooth audio visual effect during the live events. Thus it leaves a long lasting impression on the audience mind. We personally manage the sound and screen setup required for a live event as we, being a music and entertainment provider for weddings and corporate events, are committed to our clients to deliver the best in our capacity.
Contact us for more details on wedding and corporate event entertainment services as well as the event planning services provided by us at Blue Sky Atlanta.
Budget Planning:
Whether you are putting on an event for the first time or you throw parties frequently, the initial stages of an event planning can be quite frightening, especially when it comes to entertainment budget. At Blue Sky Atlanta, our experienced team will help in handling unseen challenges and surprises that are bound to come your way during the budget planning process.
We help to plan a realistic budget at the initial stage of the planning for your event which is extremely important as the failure or success of an event primarily depends upon how you manage the finance. We keep a track of your entertainment budget throughout the event, revise it and make necessary adjustments if required.
We do the total budget planning following 3 simple but essential steps:
Estimate Entertainment Cost and Fund Available on Hand:
At the initial stage of budget planning, our experienced team have an open discussion with the clients, the finance team and other parties involved regarding the estimated cost of event entertainment and the fund available for the same.
We make sure that everybody has a clear understanding of the fund and expenses involved in holding the event so that our event planners can move forward comfortably while making further decisions about the event expenditures.
Timely Review of the Budget:
We do periodical review of the entertainment budget determined at the preset of any event so as to ensure that the strategy adopted to execute the entire thing has a realistic approach and also revise the budget if required.
Help to Manage Your Budget:
We help to manage the event expenses through a check-list that includes:
Entertainment Expenses
A/V vendor or equipment rental
Miscellaneous third-party expenses
On-site cost
Marketing and advertising
Administrative expenses
Expenses for hiring temporary staff
Emergency funds
We Help you to Hire Live Music on a Budget:
We help our clients even on a tight budget to get value for money entertainment. Hiring live music is an expensive affair but we are there to find affordable ways for you so that you can get live music for your wedding or hire entertainers for your children's birthday party entertainment,
If you're still not sure about what kind of wedding entertainment will suit your budget, contact us at Blue Sky Atlanta and our expert team will help you to plan your budget for the desired entertainment for your event.
We Provide Valuable Tips to Save Your Money:
If you are on a budget wedding or have limited budget for your corporate event entertainment or any other private party, we will offer various options so that you could wrap up the entire event entertainment within your budget. For example, we often advise our clients to consider string Duos or Trio instead of string quartet for a wedding which will reduce the cost significantly, if they don't have enough funds to hire a string quartet. If it is still out of your budget, we simply ask you to get solo musicians for hire, like a harpist or classical wedding guitarist, which are less expensive options than hiring live wedding bands or string quartet.
We often ask our clients to include a wedding DJ in their wedding entertainment package that's a cool way to double up on your entertainment and save a great deal of money too!
To get your own budget planning for an event entertainment, call us at our contact number given here and we are ready to serve you.
Equipment and Supply Rental service
Whether you have weddings, birthday parties for kids, corporate events, school functions, bar/bat mitzvahs or any other event on the cards, we will connect you with the best party rentals and equipments for your event:
From audio, lighting, video, staging etc. to furniture, drapery and other decors, we have it all. We supply rental services and equipment to the clients for their event needs.
Our team treats every assignment like it was our own, for both small and big events and make things simple and easier for our clients.
On-site event management:
Besides planning and organizing the entire event on behalf of our clients, we take care of the on-site scenes taking place on the day of the main event. Our efficient team at Blue Sky Atlanta takes in account every little details of the entire event entertainment ensuring its smooth running from beginning to end. Whether it's a wedding, corporate party, kid's birthday party or any other function, we always focus on the issues that really matter to make your event perfect and give you 100% satisfaction.
We have been trustworthy to our clients since decades and take care of all requirements behind the scenes so that you can enjoy the amazing event. Contact us to get more details on our services.
Staging and Production
We offer Production and Staging Services as we have the expertise in every aspect of event production.
We are committed to make your event really stand out. We use our experience of working in this field for more than 20 years to produce a successful event for you. Our innovative, professional and cost-effective production and staging services deliver uninterrupted experts who are courteous and committed to excellence.
We create:
Amazing stage sets
Perfect stage lighting and interactive entertainment to delight your audience
Crisp and clear sound management.
Contact us for more details on the services.
Site Selection:
Here at Blue Sky Atlanta, we help our clients in finding the ideal location and venue for the event. We offer site selection services for weddings, corporate events, trade shows or any other social functions or parties. You simply need to provide your event details like budget, dates, number o f guests and other specifications and our experts will handle the rest. The venues may include hotels, resorts, restaurants and other meeting spaces. We help in negotiating with venue for best prices on accommodations, food, and entertainment.
If you have any query regarding our site selection services, we will provide you consultation about the potential sites in your budget and for further details please contact us today.
Travel Arrangements
The bride and groom will need to arrive at the ceremony and reception and there will other important people too who would want to reach the venue on time. We provide customized travel solutions to our esteemed clients for weddings, corporate events and other occasions.
They include:
Travel arrangements for the event on request.
Like pick up and drop to event venue
.
Vendor Negotiation:
Once you have set your budget, it's time to research and negotiate with the wedding vendors. From caterer to venue, florist, cake, photographer, our vendor manager will help to get the best price from the vendors, keeping you organised and stress-free at every step.
Website Creation
At Blue Sky Atlanta, we will help in building a free wedding website for you in the wedding planning process. In the website, all the information regarding your wedding will be included and the website designs can be customized as per your preference. We will offer you a host of designs to choose from so that the website created for you reflects your taste and personality.
The main features of our website creation services include:
Designing your website.
Freedom for you to choose color palette, style and invitation design;
Creating a customized backdrop with personal touch like a photograph of the couple, some pieces of art etc.
Keeping track of the RSVP sent by the invitees directly to your page.
Creating your personal URL for the website.
AV Setup Management
Budget Planning
Equipment Supply Rentals
Site Event Management
Site Selection
Staging Production
Themed Events
Transportation & Travel
arrangements
Vendor Negotiation
Website Creation
The instrumentation and style of the band is in the German-American. The front line is Trumpet, Clarinet and Tenor Sax with Tuba, Accordion and drums rounding out the rhythm section. "Whoopie John" Wilfahrt made big impressions on Laurentz as a boy and the "Six Fat Dutchmen's" tunes could be heard in his home while growing up. They have always loved Frankie Yankovic and his hits dot their repertoire that also includes Slovenian and Polish selections.
read more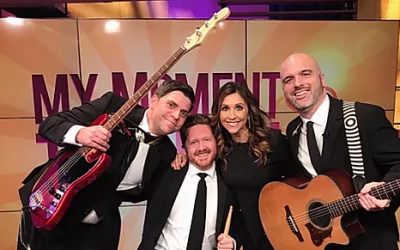 "The Riot" is an Atlanta area, high-energy, Acoustic OR Electric, duo/trio/or full band. We do party, dance, funk, rock, pop, hiphop, and country. We focus on keeping people dancing and rocking out.
read more
The Live Exchange Party Band is a seven-piece party band that models what it means to "rock the house".
read more
The instrumentation and style of the band is in the German-American. The front line is Trumpet, Clarinet and Tenor Sax with Tuba, Accordion and drums rounding out the rhythm section. "Whoopie John" Wilfahrt made big impressions on Laurentz as a boy and the "Six Fat Dutchmen's" tunes could be heard in his home while growing up. They have always loved Frankie Yankovic and his hits dot their repertoire that also includes Slovenian and Polish selections.
read more