Holding your wedding in Atlanta provides you with endless options for a theme to help guide your big day. You can embrace Southern culture and hold a big event at a beautiful barn out in the country, or keep things elegant and upscale at a swanky hotel downtown in the city.
If you're not sure what theme to choose, consider some of the best Atlanta wedding ideas:
An Outdoor Country Fair
Take advantage of the lush landscapes in the Atlanta area to hold a country fair or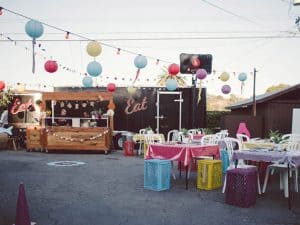 circus themed wedding. Head north to Woodstock or Canton or a little farther east to Athens where you can find plenty of venues with lots of outdoor space.
Then use it up with fun, brightly colored decor, like banners and giant balloons. Hold your reception under a tent and scatter games your guests can enjoy on the perimeter. Keep things sweet by setting up a candy bar or hiring a vendor to make quintessential fair food like funnel cakes or popcorn.
Vintage and Rustic
If you'd like to keep things simple and old-fashioned, you can't go wrong with planning a wedding around a vintage, rustic theme. Keep things relaxed and casual
Heap on the Southern charm by using blue mason jars to serve drinks and hunt for antiques to use for decor around your venue. Incorporate lots of natural things like hand-painted wooden signs or chalkboards, burlap, and twine.
Instead of using formal flowers like roses, consider something like sunflowers. You can even use cotton instead of florals.
City Chic
While Atlanta is home to many outdoor, rural wedding venues, there are equally stunning spaces within the city. If you'd rather keep your event downtown, consider a formal, modern theme.
You can take a modern wedding theme in several directions, and the specific venue you choose can help direct the details. Within the city, plenty of upscale hotels can serve as a classy background for your wedding. Choose a rooftop venue to give guests sweeping views of the Atlanta skyline. Or keep things grounded by holding the event in a green space or garden in one of Atlanta's trendy neighborhoods right outside the midtown area.
Keeping your event in the city will also keep you close to local vendors like Atlanta wedding bands and DJs, photographers, and caterers.
European Style
Atlanta is a major cosmopolitan city, where you can find imports from across the world. Want an authentic Parisian bakery to create your perfect wedding cake?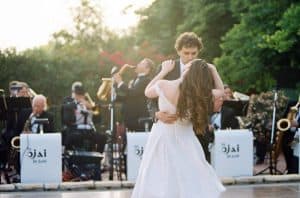 Want to serve Spanish tapas or Irish ale? Want to hire an Atlanta wedding band that can play classical Italian music, or that's heavily influenced by Vienna's great composers? You'll find access to a global market, right here in Atlanta.
So go ahead — throw a European-style wedding, perhaps with a Parisian theme or with a Greek flair. There are countless vendors across Atlanta who can supply you with food, decor and music that fits perfectly with that style.