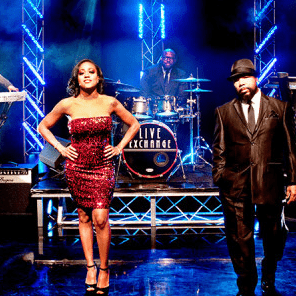 The best of Atlanta wedding bands help create that special moment that is about to take place.  Choosing your music your way and on a budget with just the right selections to spice up the atmosphere is paramount.  No doubt about it, music can make or break a wedding celebration.  Think of it as the heart and soul of any reception.  The folks attending likely will not recall what color the peonies were in the table centerpieces at the reception, but they'll unquestionably remember the music they danced to and enjoyed all night long.  And oh, what a feeling that is!
Discovering precisely what music is desired begins with posing some essential self-questioning.  We will be asking you about the music best suited to your personal taste, past experiences, space allowances at the venue, your budget and your guest demographics.  A myriad of prime choices opens for you when visit and get in touch with the best of Atlanta Wedding Bands.

Our soloists, DJ's and bands use their years of experience to reach back and find just the right music and sound for the day specially customized for all our clients.   The Atlanta Wedding Music Bands, Atlanta DJ's, and Atlanta Wedding Pianists bring a blend of both old memories including today's most trending musical entertainment.
Are you ready for that special occasion, corporate event, and wedding giving your bride her unforgettable moment?  Atlanta Wedding Music brings to your door step the best of 'soul purpose' music.  The special Atlanta Wedding Music band is also known for their non-stop performances and notoriously provides the best of entertainment.  If there's one particular song you can't wait to hear on your big night, we will deliver it.  We make the music planning process stress-free and easy for you.
Notice the extensive offering of professional variety musicians, Bands and Atlanta DJ's all at your finger tips ready to perform all your party favorites!  Fantastically mixed music guaranteed to keep everyone on their feet dancing – having a blast is our hallmark!  Our Band and Atlanta DJ's packages are simply unbeatable in any market!
Our Atlanta Wedding Pianists have style and elegance, provide the ambiance and combine elements of Classical, Jazz and New Age styles perfect for any occasion.  Corporate, wedding or cocktail receptions are taken to a whole new level.  Beautiful music allows your guests to mingle conversation early in the evening and then the energy crescendos lifting the party higher and higher.   Let's get started with your quote today!