The season to be jolly is fast-approaching and our carolers are already performing each night at the Atlanta Botanical Garden's "Garden Lights Holiday Show".  They are scheduled to perform right straight through to Christmas night!  Thousands of Atlantans are visiting the Park each week. Caroling can be traced back to the 13th Century and Francis of Assisi.  Christmas Carolers for hire or "wassailers" began in England in the 17th Century.  The  special charm of season favorites can be heard voiced through the trees, all wrapped in dazzling lights some 50 feet up throughout the property.   As you warm your hands at the fire pit, you can enjoy hot chocolate with loved ones and make a lasting memory.
Entire families come to hear the music on the great lawn and watch one of the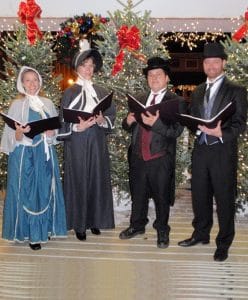 country's best model railroad train layouts bring smiles to all who gaze upon it.  Many have made this stop an annual tradition.  On a cold night seasonal night, there is nothing that will warm your heart and spirit more than this visit!  So, come down and bring some, as Issac Watts penned in his song, some "Joy To the World."
Blue Sky Atlanta Music & Entertainment can be your full musical entertainment source year-round.  Just let our expert talent make your next event entertainment sparkle – you'll see the difference using a company that really cares about you and your event. And, best of all, you will want to call us again.  Happy holidays!