Looking for classic wedding music? Here's a list of some of the best classical wedding songs.
(Need a wedding bands for hire to perform these songs? If you live in the Atlanta, Georgia area, we can help you book a classical music band to perform at your wedding. Click the link at the bottom of the post to contact us.)
#1: John Sebastian, Bach If classical wedding music is what you are looking for your wedding then John Sebastian's Jesu, Joy of Man's Desiring may be the perfect song for your ceremony or wedding reception. The song is also commonly played at Christmas time but is beautiful for a bridal processional.
#2: Pachelbel, Canon in D. This song is the epitome of wedding. It is soft, romantic and classic. Most brides choose this to walk down the aisle to if they are hosting a formal classic wedding.
#3: Mendelssohn, Midsummer's Night Dream wedding march. If you want to
walk out of the church in classic style then play Mendelssohn's wedding march as you and your groom head out. The song is instantly recognizable and is beautiful.
#4: Wagner, Lohengrin Bridal Chorus. Perhaps the most famous wedding song of all time, Wagner's 'Here comes the Bride' song is a must for any bride who has a taste for classical music. It is formal, pretty, and easily recognized. No one will be wondering when you will be coming down the aisle if you choose this song.
#5: George Frideric Handel, Hallelujah Chorus. This famous religious song will have everyone singing along and will perfectly represent your classic wedding. You can play this song either as your bridal processional or perhaps after the conclusion of the ceremony.
#6 Moonlight Sonata, Beethoven. Although this song sounds dark to many it is still beautiful and slow enough for a wedding processional. Your guests will easily recognize its classic sounds as soon as it starts playing.
#7: Music Box dancer, Frank Mills. This song is played in many a music box and is the perfect song to have your flower girl and ring bearer walk down the aisle to. It is cute, high pitched and perfect!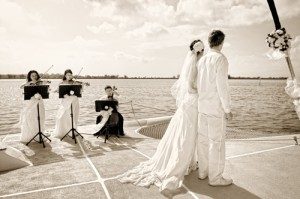 #8: Pie Jesu, Lloyd Webber This is the perfect song for your Atlanta wedding music list. It includes the vocals of some of the most angelic classical singers who are working today. It is beautiful and perfect for any classic wedding.
Click here to book music for your Atlanta wedding entertainment !