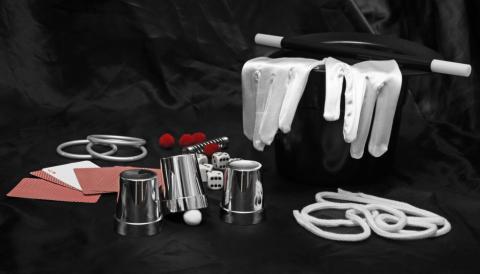 Do you want to make sure that your next birthday party, corporate event, or school function is absolutely magical? If so, then you really can't go wrong with bringing a magician on board for it.
Regardless of what type of celebration you're putting together, there are magicians for hire in Atlanta who can help to take it over the top. These Atlanta magicians will put on one heck of a show for your guests and leave them all talking about what they saw a magician do after everything is all said and done.
There are tons of reasons why you should consider working Atlanta area magicians into the plans for an upcoming event. We're going to discuss some of the top reasons to call on one of your local magicians for hire to participate in your party today. Check them out below.
They'll Be Perfect for Almost Any Type of Party
One of the first things that you're going to love about hiring Atlanta magicians is that you can hire them for just about any kind of event that you want. As we alluded to earlier, you can find magicians for hire in Atlanta that can perform at birthday parties, corporate events, and school functions.
But it's worth noting that you can also hire Atlanta magicians to perform at:
Holiday parties
Graduation parties
Summer camps
Comedy shows
And even weddings!
No matter what type of event you hire a magician for, they'll be able to put together an act that you and your guests will love from start to finish.
They'll Prove to Be Fun for Those of All Ages
Another thing that you're going to appreciate about hiring Atlanta magicians is that there isn't an age limit on them. Those of all ages should prepare to be wowed by the magicians that you welcome in for your event.
It doesn't matter if you're hosting a birthday party for a bunch of kids under the age of 10, a retirement party for a group of adults over the age of 65, or a wedding that will have people of all ages at it. Everyone at your event is going to be equally amazed by what Atlanta magicians can do.
They'll Perform a Wide Variety of Magic Tricks
Not everyone always realizes this, but there are lots of different types of magic tricks that a magician can perform during an event. From sleight of hand tricks like the ones that Robert Freeman (AKA "The Jolly Jester") has mastered to the parlor magic tricks that you'll get from Aaron Clark (AKA "The Amazing Ziggy"), you can find a magician that'll do the kind of magic you want for your party.
Most magicians can also pull out all different kinds of magic tricks throughout the course of their act. It'll keep everyone at your event on the edges of their seats and send them home happy.
They'll Provide People With a Much-Needed Escape
It's not exactly a secret that most people are very stressed out these days. Recent studies have shown that the U.S. is one of the most stressed-out countries in the entire world.
As a result, people are almost always looking for an excuse to escape from their everyday lives. And sitting down to watch a magic show will 100% allow them to do that!
It's hard to spend too much time worrying about the big deadline you have coming up at work or the paper you have due in class when you're watching a magician do their thing. Atlanta magicians are so captivating that it'll make it impossible for people to focus on anything other than the act that's in front of them.
They'll Work Well Alongside Other Types of Entertainment
If you want to do it, you're more than welcome to have Atlanta magicians serve as your main source of entertainment at a party. Most magicians can perform for as long as you need them to without ever coming anywhere close to running out of tricks.
But if you plan on having other types of entertainment at your event, you'll be happy to know that Atlanta magicians will work well alongside them. You can have a magician put on a show before or after another act or have a magician perform tricks one at a time in between other acts.
Hiring Atlanta magicians will provide you with so many options when you're planning out an event. They can work with whatever schedule you might have set up and still manage to steal the show!
They'll Leave Everyone at Your Event With Lasting Memories
At the end of your event, you want everyone to continue talking about it for days, weeks, and maybe even months to come! You don't want the memories from your event to fizzle out within just a few minutes of people leaving your party.
Fortunately, you won't have to worry about that happening when you captivate your audience with Atlanta magicians. The magicians will pull off some tricks that are so incredible that people won't be able to stop talking about them anytime soon.
If your ultimate goal is to leave people with lasting memories following your event, there is no better way to do it than by hiring Atlanta magicians. They'll get the job done each and every time you invite them to come out to a party.
Hire One of Our Experienced Atlanta Magicians for Your Next Event
Would you like to check out what some of the very best Atlanta magicians have up their sleeves? Blue Sky Atlanta can provide you with a few of the most talented magicians for hire when you call on us for help.
From the aforementioned magicians "The Jolly Jester" and "The Amazing Ziggy" to Bill Clary and Dan Garrett, we offer Atlanta magicians that will knock your socks off when you see them perform. We hope you'll consider hiring one of them for your next event.
Request a quote for one of our Atlanta area magicians today and find out more about the shows that they can put on for you and your guests.
Are you ready to turn up the heat at your next party? Atlanta mariachi bands offer plenty of high-energy fun, with Mexican-inspired beats that will turn any get-together into a bonafide fiesta. 
Not sure where to find the best Atlanta mariachi bands? Looking for a few reasons why they're a great addition to any event? Today, we're answering all of those questions and more.
Read on to discover the benefits of hiring this type of band, as well as how you can connect with the top mariachi performers in the city. 
What Is Mariachi Music?
Mariachi is a special genre of regional Mexican music, primarily associated with the western part of the country. With roots that date all the way back to the 18th century, this is one performance style that has been around for hundreds of years! One listen, and it's easy to see why. 
In the U.S., mariachi became better known in the first half of the 20th century. At that time, it was used for a variety of high-profile events, including presidential inaugurations and early radio programs. Today, it continues to be a cherished and revered form of music, with song styles that range from ballads to polkas. 
Why Should You Hire a Mariachi Band?
If you're researching live entertainment, your first instinct may be to stick with traditional, classical options. However, mariachi offers an exciting, unexpected surprise that will keep guests entertained for hours. Here are a few of the top reasons why they're an ideal addition.
1. Non-Stop Energy
There are several different instruments that you'll find in both historic and modern mariachi music. These include the guitarrón, harp, trumpet, guitar, violin, and others. What do all of these have in common? They each deliver a heavy dose of folksy, twangy energy.
When you want to encourage guests to head to the dance floor, a mariachi band can get everyone on their feet. The music is nostalgic, exciting and catchy enough that you might find your party humming right along!
2. Wide Set List
While traditional Mexican folk songs will naturally have a prominent place on a mariachi set list, you might be surprised to find that the band is well-versed in other types of music.
Would you like a unique rendition of your favorite love song for your big day? What about a beloved party hit to get the crowd moving? You can request the songs you prefer and chances are, the band will be able to deliver. 
3. A Celebration of Culture
Perhaps you're planning to host a Quinceañera, or you're marking another important milestone in the life of a family member. Or, you may be putting your own spin on a Mexican holiday, such as Cinco de Mayo. In any case, a mariachi band is a natural choice. 
These bands not only play music in the traditional mariachi style, but many will also arrive at your gig dressed in head-to-toe traditional mariachi attire. Called a charro ensemble, this usually includes a wide-brimmed sombrero, short boots, black fitted pants, a waist-length jacket and a bright red bow tie. 
If your family is of Mexican descent, this is a beautiful and respectful way to pay homage to your roots. Even if you're not from Mexico, you can still appreciate the gorgeous imagery and sounds of this culture. 
4. Top-Notch Musical Talent
Mariachi performers aren't just experts at one type of instrument. Often, you'll find band members switching instruments halfway through, swapping their guitar for a violin, for instance. Or, you'll see one head to the microphone to deliver a show-stopping vocal performance that will stop partygoers in their tracks.
The art of mariachi is instilled in many of these musicians when they are very young. From childhood, they spend years honing and perfecting their craft. When you hire them to play at your event, you'll get a front-row seat to enjoy their hard work and dedication. 
5. Something for Everyone
Yes, a mariachi band is skilled at playing lively, upbeat tunes. However, they also know how to turn down the volume and play romantic slow songs or heart-wrenching ballads. In this way, they truly deliver a universal listening experience that will delight everyone at your next event. 
From the heavy metal teen who only listens to head-bangers to your grandmother with a penchant for country and western, everyone in attendance will find at least one mariachi song they can jam to.
How to Find the Best Atlanta Mariachi Bands
You could spend your time and spin your wheels searching far and wide for the best mariachi bands that our city has to offer. Or, you could just contact our team.
Recognized as one of the largest, full-service entertainment companies in Atlanta, we're experts at connecting our clients with the live performers they need to make their next event an unforgettable one. Let us know what style of event you're hosting and what you need, and we'll help you connect with the right mariachi performers.
Not only are our musicians ultra-talented, but they're also consummate professionals that you can count on to be on-time, courteous and accommodating at every turn.
Find the Live Entertainment You Need Today
At Blue Sky Atlanta, our goal is to help you shine. When you trust us to find singers, musicians, magicians or other performers for your event, you know you're getting the best. 
In addition to Atlanta mariachi bands, we can also help you discover a wide range of local talent, including wedding DJs and comedians. Get in touch with our team today and let's get started.