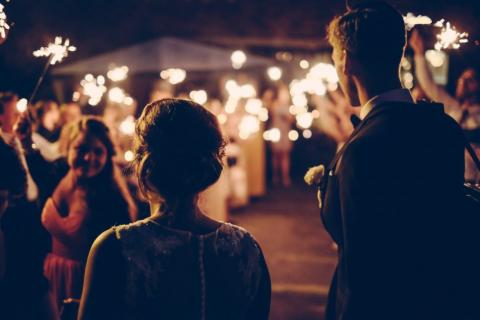 2021 is the year of intention, and it shows through in this year's wedding trends: bistro entertainment, living room decor, small and intimate toasts, and mini d'oeuvres, to name a few.
In other words? This year is a year of weddings where every detail matters, even for a big family wedding at The Grand Hyatt.
So if you're looking to turn your wedding reception (and the whole wedding experience) into the event you've been dreaming of, here's what you need to know about choosing the perfect Grand Hyatt wedding band (or any other form of entertainment!)
Types of Wedding Entertainment
For a classic reception or a wedding tending toward formal, the classic entertainment options are the best. We're talking acts like a jazz band or a romantic pianist or just a good old-fashioned wedding singer. These are romantic crowd-pleasers and well-suited to a traditional wedding celebration.
For a young, hip crowd (hint: majority twenty-somethings), a wedding DJ will be the hit of the night.
While the classic wedding reception image includes a band on a stage, that doesn't have to be your wedding. In fact, there are all sorts of alternative, non-traditional entertainment options out there. This could mean just about anything from a stand-up comedian to a caricaturist to a carnival-style act like a stilt-walker.
Remember, this is your big day, and you're only limited by your own imagination. Don't be afraid to go for what you love.
Getting Started Choosing the Perfect Grand Hyatt Wedding Entertainment
Whether you're puzzling out how to choose a wedding band, looking into a DJ, or contemplating an off-the-wall comedian, there's an art and a science to finding wedding entertainment. It comes down to three factors:
Your budget
Your timeframe
Your attendees
The right entertainment for your wedding hits the sweet spot between all three.
Your Budget
Yes, we used the scary b word. Here's the thing: everything else follows from your event budget. There are a few ways to approach this.
First, research the average cost of wedding entertainment in your area. This will give you a ballpark. From there, if your venue has any associated acts, take a look at their pricing. You can also work with your wedding planner to look up various agencies. Remember that pricing is influenced by:
Location
Performance length
Day of the week
Number of attendees
Keep in mind that individual performers charge differently than a full-on wedding band. If the entertainers are associated with the venue, the venue can share cost details with you. If you're working with an agency, they can give you a list of performers matching your preferences and budget.
Your Timeframe
Listen, we get it. You probably never had a reason to book a band or DJ before. Here's the thing: some of the best DJs and bands have to be booked as much as 18 months in advance.
This is why knowing your timeframe is absolutely critical—for the wedding date and the progression of the reception itself.
With regards to your wedding date, here's what it comes down to: the earlier you book, the more likely you are to get your top choice. With regards to the reception itself, it goes back to our first point (budget).
If you think of your wedding as a complete event from start to finish, there are several junctures where guests can interact with each other or the entertainers. The easiest way to approach this is by breaking it into blocks with a designated timeframe for each. We find it most useful to think in five blocks:
Block One: setup (no entertainment required)
Block Two: guests arrive (potential pre-ceremony entertainment)
Block Three: ceremony and photos (ceremony entertainment and lull entertainment)
Block Four: dinner, if applicable (casual entertainment)
Block Five: reception party (entertainment required)
Every couple has some sort of entertainment in their reception. Everything before that is an added bonus for your guests, but it's also billable time. Think about your budget and how you'll segment the reception. If you're using multiple performers, they can bill for their respective performance time.
Your Attendees
Last but not least are your attendees.
At the end of the day, your wedding is your event, not anyone else's. You should go for what makes you happy as a couple, even if it's not the entertainment your parents might have chosen. That said, if you want the entertainment to really hit it off with the crowd, it pays to think about the crowd in question.
For example, if your wedding will primarily consist of friends your own age, especially those in their twenties, a DJ might be better received (and better suited to having a blast on the dance floor). However, if your wedding has a lot of family members (including Great Aunt Maude and your baby cousins) it's a good idea to opt for entertainment that will meet everyone in the middle. A more traditional wedding band is a good idea, though you can absolutely opt for a band that plays your favorite music style. 
Dreaming of a Grand Hyatt Atlanta Wedding?
If you're planning a wedding at The Grand Hyatt, just about anything is possible—including standout wedding entertainment that will let you make memories you'll cherish for a lifetime. Our job is to deliver the wedding entertainment you've been dreaming of. Whether you're high-style and glamorous or laid-back and fun, we know there's a wedding entertainer you'll love.
Ready to plan your dream wedding? Make sure to check out our variety of artists, with options for every style of wedding.