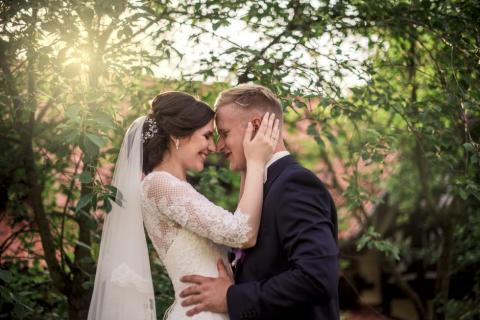 As you plan your upcoming wedding, you're naturally concerned about all of the details, big and small. Yet, there are some items on your to-do list that are important to check off as early as possible. This includes finding the perfect space for your nuptials. 
As you consider your local options, you're likely looking at some of the most common venues. From hotels and country clubs to barns and art centers, there are plenty of choices. Yet, have you considered hosting your big day outside?
Outdoor wedding venues have plenty to offer. Classic, beautiful, and inspirational, they're quickly becoming the go-to spots for couples everywhere. Today, we're sharing a few reasons why it's a good idea to give them a second look. 
Natural Beauty
Let's start with the obvious reasons why outdoor wedding reception venues are so popular: They're beautiful! You and your guests can enjoy breathtaking scenery and a gorgeous natural backdrop at no additional cost beyond the rental fee. 
While you can certainly recreate this vibe indoors, it would require investing in a ton of greenery and floral decorations, which can quickly cut into your budget. Moving the event outdoors means that you have access to all kinds of special features, including lakes, mountains, and even vineyards. 
Concerned about the weather? If it happens to storm on your wedding, most facilities will offer a backup plan that makes it easy to move the party inside. It's also a sign of good luck and a strong marriage, as a wet knot is harder to untie than a dry one!
Great Natural Light
Your wedding photos are sure to become some of your most treasured possessions. Yet, any photographer knows that it can be challenging to get the right lighting! This is especially the case if your wedding occurs in a venue that uses harsh overhead lights or dim ones that cast unflattering shadows.
Outdoors, you have the advantage of natural, ambient light. It's soft, diffused and just right for those coveted poses. This might be a small benefit, but it's one that you'll appreciate for years to come.
Plenty of Options
Think you're limited to designated outdoor event spaces when searching for a spot for your wedding? Not quite! Today, there are plenty of indoor venues that are also opening their doors to allow outdoor gatherings. 
Take hotels, for instance. Many will allow wedding parties to mingle on their rooftop balconies or back patios to expand the reception space and allow guests to take advantage of the beautiful setting. One beautiful example is The Sylvan Hotel.
Nestled in Atlanta's Buckhead neighborhood, this hotel is oozing with organic beauty. Here, you can host a rehearsal dinner in the garden bar, take your cocktail hour to the rooftop, or say "I do" in front of stunning woodland views. It's a great way to enjoy the amenities of an indoor space without sacrificing the freedom and function of an outdoor event. 
Room to Move
Have you ever attended a wedding where all of the guests were contained to a few small rooms? Cozy is one thing, but cramped is an entirely different issue altogether. 
With an outdoor wedding, you'll usually have ample space to expand your festivities. This way, guests can spread out as they mingle, which makes everyone more comfortable.
To this end, another hotel wedding space to consider is The St. Regis Hotel. The Grand Terrace at this venue can accommodate up to 200 guests and is dripping with Old World charm. From palatial columns and a Pool Piazza to a breathtaking waterfall and spectacular architecture, this is a space you have to see to believe. 
Versatile Design
When you host your wedding indoors, you're required to work around the location's interior. While you may be able to change some superficial details, most of the fixtures will remain in place. Usually, this isn't an issue, as those touches are elegant and designed to be as neutral as possible. 
On the other hand, an outdoor wedding venue is essentially a blank slate! You can choose to design it in a way that meets your personal vision for your wedding and feels totally unique to you and your partner. 
Want to create an elegant, fanciful mood? Bring in large white tents and drape each table with elaborate linens and fresh flowers. You can also rent a stage and dance floor to highlight your musicians and help your guests get their groove on. 
Concerned that your quirky Hogwarts-themed wedding might not fit in a traditional church or event space? Take the party outside, where you're free to express your shared interests. In short, there are usually fewer limitations placed on these gatherings, and nature serves as the ultimate setting.
Possible Cost Savings
Have you been scouring the internet looking for cheap wedding venues? If so, then you know that they can be a little hard to find. Even if a venue advertises a relatively low cost, you can easily incur extra fees if you use their wedding amenities, such as linen rentals, floral design, and event planning assistance.
In many cases, you can save a significant amount of money by hosting your wedding outdoors. For one, you can greatly reduce the overhead costs required to operate an indoor facility, such as power and water. Plus, you can save on decorations when you're surrounded by natural beauty!
With a wedding at the Atlanta Botanical Gardens, for instance, you won't need to spend a cent on professional floral design. You're surrounded by some of the most dazzling blooms in the city!
Consider Local Outdoor Wedding Venues
In any season, outdoor wedding venues can help make your big day special. Around the greater Atlanta area, there are plenty of spaces that boast both indoor and outdoor reception areas, so you'll always have plenty of options. 
At Blue Sky Atlanta, we're here to make the most important aspects of your wedding as stress-free and seamless as possible. This includes helping you choose the ideal celebration music! When you trust our team of professionals, you can have a party that sounds as good as it looks.
Feel free to browse our site to learn more about our partnering performing artists. Then, get in touch with us today to kick off the planning process!