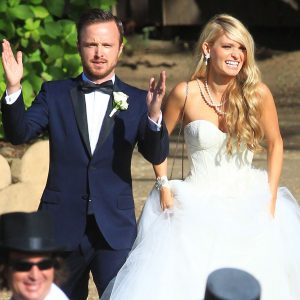 Want to learn more about fun celebrity weddings? Want to figure out what aspects of a celebrity wedding to incorporate into your own Atlanta wedding? Read on…
The actor from the hit AMC series Breaking Bad, Aaron Paul, has landed a wonderful relationship with now-wife Lauren Parsekian. Their marriage took place on Memorial Day weekend of this year. Aaron and Lauren were wed on a gorgeous Cottage Pavilion on the amazing grounds of the Calamigos Ranch in Malibu.
(You, however, have a wide selection of beautiful Atlanta wedding venues to choose from. Here are some suggestions for finding the perfect location for your fairytale wedding!)
The Breaking Bad star met his activist wife at a California music festival in 2010 and quickly fell in love. They dated for a year and were engaged. The two year long engagement allowed them to plan what guests call, a magical wedding. Their theme was a Pairisan Carnival and they asked their guest to attend wearing various theme orientated masks. Both John Mayer and Foster the People performed at the reception, and fellow actor Bryan Cranston was a groomsman for Paul. Along with the 'magical' theme, Magician David Blaine entertained guests while they dinned.
The brides dress was absolutely exquisite and went along perfectly with the
Parisian inspired wedding theme. She wore a strapless princess style Paris dress from designer Kenneth Pool that was flattering and elegant, and she opted for long flowing waves in her hair. Lauren also did her own makeup, which is highly unusual for celebrity wives. Under her dress she wore white boots that nodded to the whimsical theme.  Her bridesmaids wore Vanilla colored chiffon dresses that made them look astonishing on their own.
(Learn more about fun wedding themes!)
Aaron Paul looked gentlemanly in a Burberry Tux and custom made tie. His groomsmen sported black tuxes and ties. The entire wedding party looked fit for
the red carpet but their isle was much more important. Guests were enthralled by the Alice in Wonderland Carnival Masquerade wedding. The reception was positioned in front of a giant Farris wheel (a representation of where they shared their first kiss) and was decorated with carnival games, men on stilts, vintage sofas, and tea sets.
Their wedding was gorgeous and so were the bride and groom! It truly was a fairytale wedding!
Request a quote for for your Atlanta music and wedding entertainment.